Dr. Jonathan McVicar
Registered Psychologist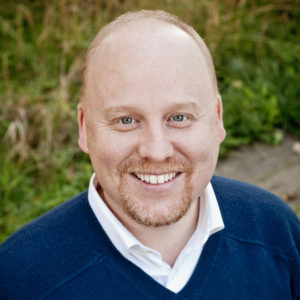 I'm Dr. Jonathan McVicar, but I prefer that my clients call me Jonathan if they're comfortable with that. My belief, when it comes to counselling, is that most people don't want to come for counselling for the rest of their life. They usually want help with an area or aspect of their life that is causing them pain or discomfort and once that issue is resolved, they want to go back to living without counselling. This is my goal in working with my clients. How I usually explain it is that my job is to put myself out of a job and I take this very seriously.
Background and Training
I've often had clients ask me about my training and how long I've been counselling and I'm always happy to provide this information as I want my clients to have confidence in my ability to help them. I've been working with clients now for 20 years around many issues such as: depression, anxiety, relationship challenges (including infidelity, and divorce / separation among others), grief and loss, trauma and abuse, OCD, and personal growth.
All of my degrees come from UBC (BA, MA, and PhD) with my graduate degrees being in Counselling Psychology. I completed my Doctoral Internship and was hired on as an Assistant Professor at Memorial University of Newfoundland's Counselling Centre in St. John's, NL where my wife Kelly and I lived for 3 years.
How I Work
The style of counselling I've been trained in is Client-Centered in its approach. What this means is that one of the most important things to me is that my clients always feel cared for as they're telling me about their lives. I want them always to feel and understand that their concerns matter and that they are never being judged for any of the thoughts, feelings, or behaviours that they tell me about.
I use a variety of different techniques and approaches based on the concerns that each person brings in. However, as each person that I've ever met is a unique individual, it's impossible and ineffective to try to use the same technique with every person. What this means is that I tailor my sessions to the need of each person based on their goals, backgrounds, personality, and learning styles.
I will often give homework to my clients who request it and I like to keep track of my clients' progress in counselling because I don't want to waste anyone's time or money.
What Does a First Session Look Like?
First and foremost, I want all of my clients to feel welcome when they come in to the office for the first time. It is extremely common to feel nervous when coming to counselling (especially if you've never been to counselling before) and so I want walking in to our space to feel as comfortable and safe as possible. We offer a selection of tea and we have hot / cold water for our clients available in the main waiting area along with chocolates and caramels if you need a quick sugar burst. While I'm not always able to greet my clients immediately when they come in (as I may be with other clients), I always hope my clients find me happy to see you / meet you when I'm free.
I have a standard three page intake form (attach link) that I ask people to fill out that includes things like your name, date of birth, address, email, limits of confidentiality, and our cancellation policy. Once we start the session, I welcome my clients to come into my office and choose a seat that they like (I don't have a 'set' seat) and then we can start talking.
One thing that is very important to me is that you feel as though there's a 'fit' between yourself and myself. All of the research on positive outcomes in counselling suggests that the two most important components in a client getting what they need from counselling is a) they are ready to change and b) they feel like their counsellor 'gets them' and actually cares about them and their well-being. This is what I want you to believe and feel after your first session with me. I never take it for granted that just because your friend, family member, doctor, etc. referred you to my office that there's going to be a 'fit'. I really do want each and every person who walks into my office to get the help they need, even if it's not with me.
The last thing I'll say about the first session is that often I don't do a lot of talking as I find many people really wanting to tell their story and have someone be there who really wants to listen. However, I've also had clients who don't know where to start their story and so, using my intake form, I'm happy to ask questions.
It's also important to note that whatever I write down in any of our sessions is always open to you to read. If anyone ever asks me, "Jonathan, can I see what you just wrote down?", my attitude is always "Yes! Here you are." This is part of my belief in being open and transparent with my clients all of the time. If you ever want to know what I'm thinking or what my opinion is, all you have to do is ask.
Thanks for taking the time to read about me and how I work. If you choose to come in for an appointment, I look forward to meeting you and helping you.
Richmond Counselling is ready to help you find greater happiness and wellness
If you have any questions, please contact us or book an appointment with Jonathan today.